Kitchen Remodeling
Let Us Help You Feel Fantastic…every Single Day…
In Your New Kitchen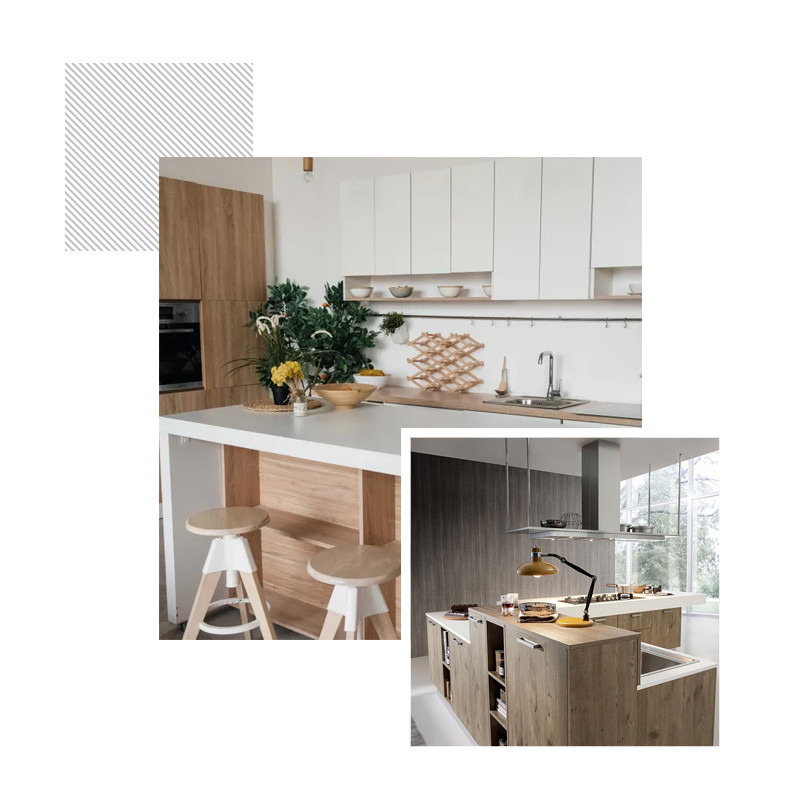 Kitchen Remodeling
A 2022 New York Post poll estimates that the average American spends more than 400 hours in their kitchen per year.
You spend so much time in your kitchen that you deserve to feel good, clean, and safe. Remodeling gives YOU the opportunity to get the look, style and environment you desire.

Here are some more benefits of getting a kitchen remodel from Maingreen Remodel & Construction:
Save Money in the Long Run
If you're stuck with old kitchen fixtures and appliances, you're probably spending too much  for the basics such as water and power. At Maingreen Remodel & Construction, we specialize in curating money-saving kitchen upgrades such as the installing water saving sinks, LED lighting, and energy saving appliances.
Increase Your Home's Value
Kitchen remodels provide a high return on investment for homeowners, especially those looking to sell in the near future. In those cases, the new kitchen will very often pay for itself.
Sell Your Home Quicker and at a Higher Price
Buyers demonstrate a propensity and willingness to pay more for homes with stylish, energy efficient kitchens.
Elevate Your Cooking Experience, Increase Cleanliness, and Feel Better about Your Food
Cooking in an old, small kitchen can feel tiring, dirty, and time consuming. By opening and updating your space, you are sure to feel better while preparing your meals…which your family and guests will feel while they eat it! A remodeled kitchen is also much easier to keep clean, significantly reducing any chance of food borne illness or pests.
Get More Storage Space
Need more cabinets or more pantry space? Remodeling is the ideal time to add them. We can create a floor plan to match your organizing habits, methods and desires.
Create a Stylish and Sustainable Kitchen
We do the latest flooring techniques

Flooring
Whether it is ceramic, laminate and vinyl or even natural stone tiles, we can help you create the look and feel that you desire.

One of the most popular materials for kitchen floors are ceramic tiles made from natural materials like clay that are baked to a finish.

Countertops
We use all the latest and most popular materials including, granite, marble, quartzite, soapstone, porcelain, and engineered quartz.

Cabinets
Sometimes we can take a more budget friendly and less labor intensive approach and do a simple cabinet refacing. If your kitchen is in need of a complete overhaul and reassessment of storage space, we can also demolish and install brand new cabinets. Our dedicated team of designers can create a design that works with your budget and vibe.

Appliances
We can help you choose the best appliances for your style and budget. Our expert installers will make sure everything is in top working order. This includes the increasingly popular commercial grade refrigerators which are a great choice for larger households or for those who often host large gatherings.

Water Saving Sinks and Plumbing
Let us help you choose water saving sinks and plumbing…your future bills will thank you!

Recessed Lighting
Most interior designers will tell you that lighting can make all the difference! We agree. That is why we offer full electrical assessments and expert installation of canned and recessed lighting.
How does it work?
Gorgeous Kitchens by Maingreen Remodel & Construction
Step 1 – One of our representatives visits your home to meet with you and to hear exactly what you would like out of your dream kitchen remodel.

Step 2 – One of our top designers will create a 2D-3D rendering and design of your kitchen.

Step 3 – You agree on the design.

Step 4 – We begin work right away and complete the project in a timely manner.

Step 5 – You enjoy your new kitchen.
Rest Assured. Working with us is a GREAT decision.
With hundreds of happy customers, we know you will be satisfied with our work, our friendliness and our attention to detail. We are dedicated to making your dream home remodel a positive experience.

FREE CONSULTATIONS
We offer free energy efficient consultations with one of our certified experts. We come to you at your earliest convenience.

HONESTY
We value honesty in life and business.

LICENSED
Maingreen Remodel & Construction is licensed and insured.

PROTECTION
With rising energy costs, we can help you protect your spending and increase the value of your home.

TRANSPARENCY
We work with you every step of the way. We provide clear outlines on the scope of work necessary to meet your dream.